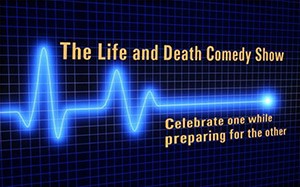 By Lara Anderson
When a doctor and a comedian come together, the collaboration can be life changing. This is the case with Dr. Ann McIntosh and comedian Stevie Ray.
Emergency Physician Ann McIntosh sees life and death situations every day. And what never stops surprising her is how many families avoid the end-of-life care discussion, until it's too late. An easy topic? No. Important? Yes. But how should an individual start the conversation?
"As an emergency physician, I frequently see families in crisis. They don't know their loved one's end of life wishes, and they often have to make vital decisions in a matter of seconds," says Dr. McIntosh.
Seeing this crisis far too often, she explored ways to encourage people to have this important discussion, before a life-threatening health event occurred. Humor, she decided.
Laughter can lighten the mood and create an atmosphere that makes this tough topic easier on everyone. That's why Dr. McIntosh reached out to Stevie Ray's Improv Company.
Combining Stevie Ray's comedy and Dr. McIntosh's expertise with input from the Advance Care Planning teams at Park Nicollet, North Memorial and Ridgeview Medical Centers and Minnesota Honoring Choices, "The Life and Death Comedy Show" was born. And what a collaboration it has been.
The show recently wrapped its second run at the Chanhassen Dinner Theater, in conjunction with National Healthcare Decisions Day.
The audience was surprisingly diverse in age. The show's content ranged from current events and humorous every day situations punctuated with quick sketches on end of life planning. Much of the show was based on call outs from the audience with subject matter guidance from the troupe onstage. Brilliant and informative, "The Life and Death Comedy Show" addresses end-of-life care while keeping the mood lighter than light.
"This is such a fun way to deal with a tough subject. We really love connecting with people," said Brett Williams of Stevie Ray's Improv Company.
To learn about future creative collaborations by Dr. McIntosh on advance care planning and other important healthcare issues, sign up for her newsletter or follow her on Twitter.
By Lara Anderson, Communications Professional. See her Knowing Medicare blog here.