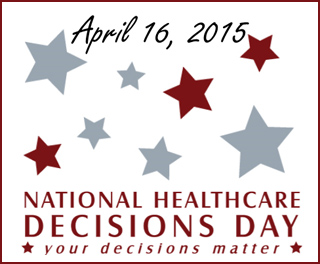 April 16th is National Healthcare Decisions Day.
The purpose of the day is to encourage people to discuss their healthcare wishes with their loved ones and their caregiver's AND to get them written down. It's a tough, but important conversation. Advance Care Planning is for everyone. Studies suggest that roughly 70% of us will be unable to make decisions for ourselves at some point in our lives, but only 30% of American adults have an advance care plan in writing. The National Healthcare Decisions Day movement plans to close this gap. Also, it is not just important for the elderly or those with severe illness. Health crises can happen to anyone at any time. Keep in mind that Nancy Cruzan, Karen Anne Quinlan, and Terri Schiavo were all in their 20's when their health crises occurred.
Join McIntoshMD and friends on April 16th to get your questions answered and to fill out your advanced directives.
Noon – 5pm at the Excelsior-Lake Minnetonka Chamber of Commerce, 37 Water Street in downtown Excelsior.
and/or
5:30 – 7:30 location TBA (check back here or follow me on Twitter @AnnMcMD)
A panel discussion will start at 6pm. Joining me will be a financial planner, a funeral director, an ethical will expert and others. Refreshments will be provided and there will be plenty of time for questions and discussion.
Further Reading:
Sun Sailor: It's time to have "the talk"